Innova
Innova Cab / Taxi in Srinagar, Kashmir offers top-notch transportation services for travelers visiting the region for vacation. Our comfortable and spacious Toyota Innova cabs are ideal for families or small groups, providing ample room for passengers and their luggage.
Why Choose an Innova cab for Your Kashmir Tour
An Innova cab / taxi is the perfect choice for making your Kashmir tour unforgettable. Offering a comfortable and smooth experience, it ensures that you travel in style. The spacious seating arrangement guarantees that you and your fellow travellers have enough legroom and can relax throughout the journey. No more cramped and uncomfortable rides!
The plush interiors of an Innova taxis provide a cozy and inviting ambiance, making your Kashmir tour even more enjoyable. Whether you're travelling with family or friends, you can sink into the comfortable seats and unwind as you take in the breath-taking beauty of Kashmir.
Moreover, with ample storage space, an Innova cabs allows you to carry all your luggage and equipment without any hassle. You can bring your essentials, including trekking gear, picnic baskets, and personal belongings, conveniently stored in the spacious boot of the vehicle. With an Innova at your disposal, you're well-prepared for all the adventurous activities and memorable experiences that await you in the stunning landscapes of Kashmir.
Comfortable and Spacious Seating
The comfortable seats in Innova taxis ensure that you can travel long distances without feeling fatigued. Whether you are embarking on a road trip with your loved ones or travelling solo, the plush seating of an Innova allows you to sit back and enjoy the scenic beauty of Kashmir without any discomfort.
There's nothing worse than feeling cramped in a tight space during a long drive, but with Innova cabs, you can extend your legs and find a comfortable position to make the most of your travel time. Moreover, the well-cushioned seats provide excellent lumbar support, ensuring a comfortable ride throughout your Kashmir tour.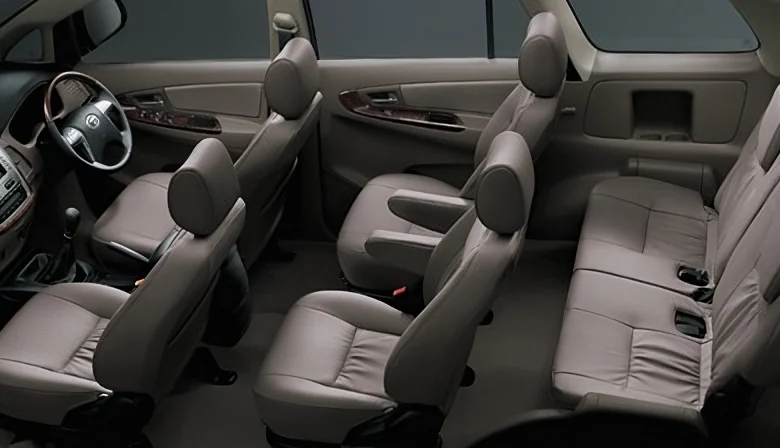 No matter how bumpy the terrain gets, you can rely on the cozy seats of an Innova to keep you snug and relaxed. Plus, the reclining seats in an Innova allow you to adjust them according to your preference, providing maximum comfort for everyone. Whether you prefer to sit upright or lean back, an Innova taxi offers versatile seating options, catering to the individual preferences of all passengers.
Reliable and Well-Maintained Vehicles
Our Toyota Innova cabs are reliable vehicles that are well-maintained to ensure smooth operation during your Kashmir tour. The regular servicing and maintenance of our Innova taxis make them highly dependable for long-distance travel in challenging hilly terrains of Kashmir. You can rest assured that your Innova cab will be in top-notch condition.
With their advanced safety features, including airbags, ABS, and stability control, Toyota Innova cab provide a secure choice for your trips in Kashmir. Whether we are driving through narrow mountain roads or navigating slippery slopes, the safety features of an Innova will help protect you and your fellow travellers.
Additionally, the sturdy build quality of Innova vehicles allows them to handle rough roads and adverse weather conditions, ensuring a safe and reliable journey through Kashmir. You can have peace of mind knowing that your Innova is equipped to tackle any challenges that may come your way during your unforgettable Kashmir tour.
Book an Innova Cab / Taxi for Your Kashmir Tour
When planning your Kashmir tour, it's important to choose a reputable car rental company to ensure a reliable and hassle-free experience. Our Company have a good track record and positive reviews from our previous customers.
Whether you're traveling with a small group or a larger family, there are different Innova models like new Innova Crysta in Srinagar available to accommodate your requirements. With our easy booking process you can transfer booking amount to our Company bank account or through UPI payment and we will share the receipt for the paid amount.
Our Professional and experienced Drivers
Our experienced and professional drivers are knowledgeable about the area and can provide suggestions for popular tourist destinations, hidden gems, and local eateries. We pride ourselves on our punctuality and reliability, ensuring that you reach your destination on time and with ease.
Details
Price

₹

3,200
Kilometers
n/a
Registration
JK
Transmission
Manual
Body
MPV
Specifications
| | |
| --- | --- |
| Make | Toyota |
| Model | Innova |
| Seats | 7 |
| Doors | 4 |
| Transmission Type | Manual |