Innova Crysta
The Innova Crysta Cabs / Taxis are the ideal vehicles to tour the city of Srinagar and other tourist destinations in Kashmir. This luxury vehicle is a great option for families or groups of friends who want to travel together in comfort and style & it can fit up to 7 people easily.
Why hire an Innova Crysta in Srinagar / Kashmir
The Innova Crysta in Srinagar offers a comfortable and spacious seating arrangement, ensuring a relaxing journey for all passengers. Whether you are travelling with family or friends, this luxurious vehicle guarantees a smooth and enjoyable ride. With its plush interiors and ample legroom, renting an Innova Crysta cab provides a premium travel experience in Srinagar, Kashmir. Renting this vehicle allows you to embark on your journey with utmost comfort and style.
Not only does the Innova Crysta offer a comfortable seating arrangement, but it also has advanced features and a stylish design. This makes it the perfect choice for exploring the scenic beauty of Srinagar and other parts of Kashmir. Picture yourself cruising through the picturesque landscapes with the sun shining and the wind gently blowing through your hair. The Innova Crysta's sleek design adds a touch of elegance to your travel experience, making it a truly memorable one.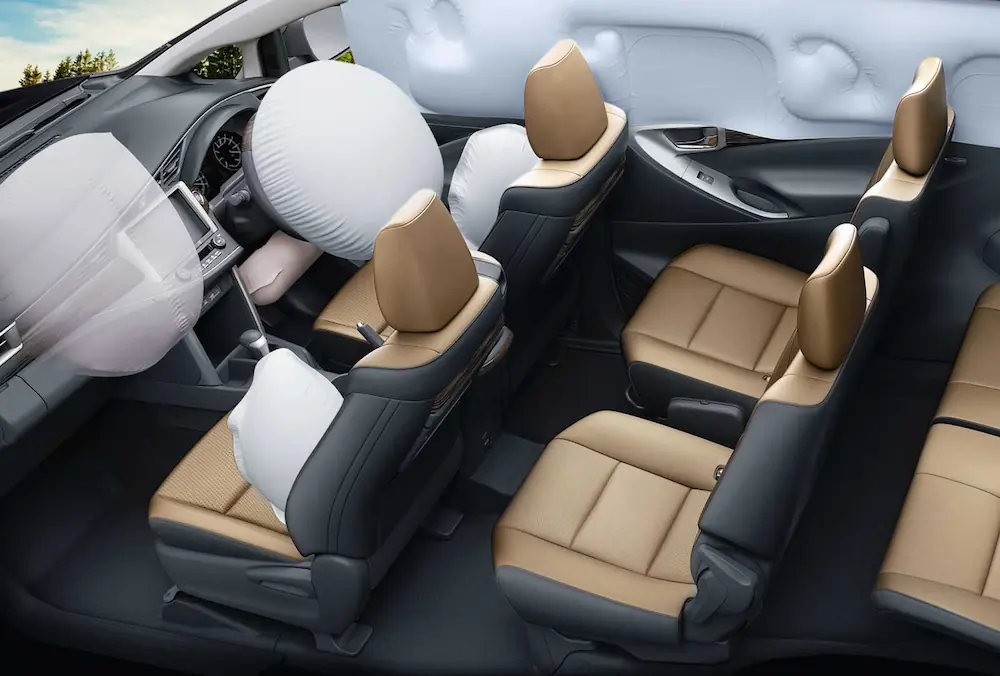 When you rent an Innova Crysta cab / taxi in Srinagar, you can rest assured that your journey in Srinagar will be nothing short of extraordinary. The spacious interiors provide ample headspace, allowing you to stretch out and relax during the drive. Whether you are taking a day trip to famous tourist spots or going on a multi-day adventure, the Innova Crysta's comfortable seating arrangement ensures that you arrive at your destination feeling refreshed and rejuvenated.
Don't settle for an ordinary travel experience when you can have the best. Renting an Innova Crysta taxi in Srinagar allows you to make the most of your time in Kashmir. Explore the breathtaking beauty of this paradise with utmost comfort and convenience. So go ahead, book your Innova Crysta cab and get ready for an unforgettable journey through the enchanting landscapes of Kashmir.
Safety and Reliability
Renting an Innova Crysta ensures a safe and reliable travel experience. With its advanced safety features, this vehicle provides a secure journey for you and your loved ones. Whether you're navigating through the bustling streets of Srinagar or cruising along the winding mountain roads of Kashmir, the Innova Crysta's sturdy build offers durability and reliability on the road.
Equipped with advanced safety features like ABS, EBD, and airbags, the Innova Crysta ensures a secure ride for all occupants. You can have peace of mind knowing that you're in capable hands. Our experienced drivers prioritize your safety and are committed to providing a reliable transportation service. Sit back, relax, and enjoy the magnificent sights of Kashmir, knowing that you're in the best vehicle for a safe and trustworthy journey.
You may also want to check our budget Innova cabs in Kashmir for your tour.
Experienced and Professional Drivers
When you rent an Innova Crysta cab in Srinagar, Kashmir, you not only get a luxurious and spacious vehicle but also the expertise of our team of experienced drivers. They will also act as guides for trips and will recommend best the options for you. Our drivers are well-versed with the local routes and traffic conditions, ensuring that you reach your destination smoothly and efficiently.
Our drivers undergo rigorous training to maintain professionalism and adhere to safety norms, ensuring a safe and comfortable journey for you and your loved ones. You can rely on our professional drivers to provide a hassle-free travel experience in Srinagar, while prioritizing customer satisfaction and offering excellent service throughout your journey. Sit back, relax, and let our courteous drivers take care of all your travel needs in Srinagar.
Inclusions:
AC / Heater
Parking, Fuel, Tolls
Waiting Charges, Night Halts, driver's duty from 9 am to 7 pm
Srinagar Sightseeing
Exclusions:
Sightseeing at tourist destinations by village ponies, sledges,
Chained / Union Taxi (Aru, Beetab, Chandanwari, Zero-point, Zojilla, Gulmarg internal Sightseeing). etc
Driver's time after 7 pm
You also have an option to rent a car in Kashmir with Car Rental Srinagar
Details
Price

₹

4,500
Kilometers
n/a
Registration
JK
Transmission
Manual
Body
MPV
Drive Type
Front Wheel Drive
Specifications
| | |
| --- | --- |
| Make | Toyota |
| Model | Innova Crysta |
| Seats | 7 |
| Doors | 4 |
| Transmission Type | Manual |
| Fuel Type | Regular Unleaded |